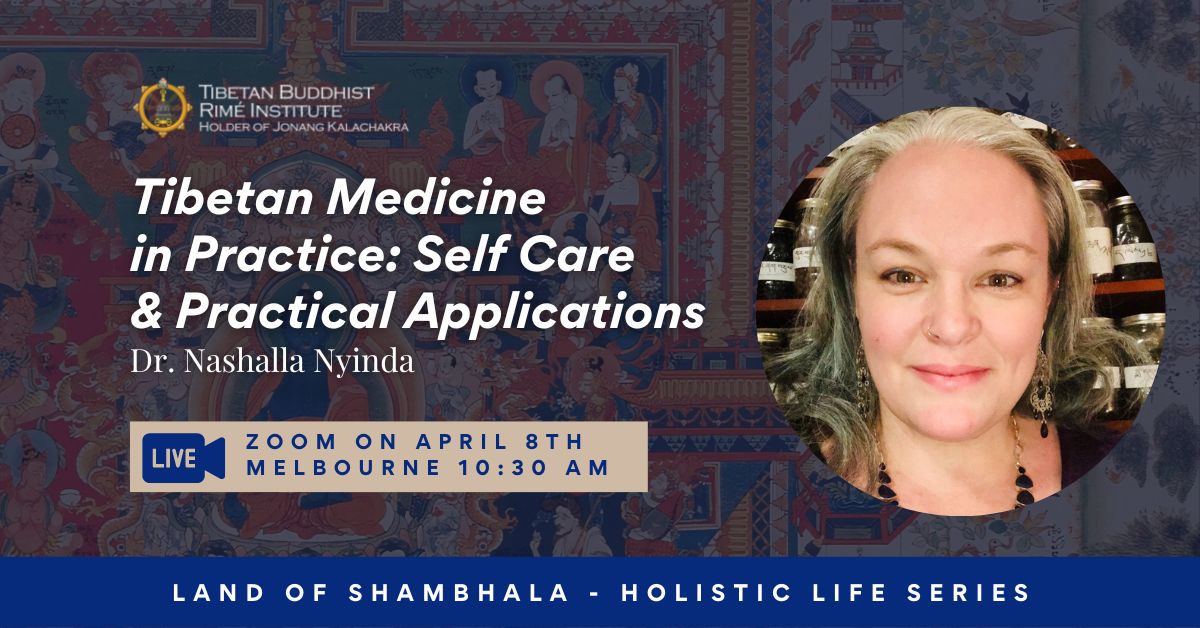 Tibetan Medicine in Practice: Self Care & Practical Applications – Holistic Life Series
Join on Zoom
https://us02web.zoom.us/j/83353071627?pwd=VWdocVJZZXR3S1A1UHlCN2VJYUp1dz09
Webinar ID: 833 5307 1627
Passcode: 888888
Tibetan medicine may indeed derive from thousands of years of Tibetan and Buddhist tradition, yet its essence is timeless.
Learn what makes this unbroken Buddhist healing system work with grace, ease and power to effect lasting change.
Join Menpa (Doctor of Tibetan Medicine) Nashalla G. Nyinda as she shares techniques which demystify and bring forward these profound practices. You need only look to the kitchen cabinet, your garden and within to begin to apply basic principles of Tibetan Medicine into applicable and practical healing wisdom.
Teacher
Dr. Nashalla Nyinda

Dr Nashalla began to study Tibetan Medicine in 1999 earning a Interdisciplinary Studies BA from Naropa University in 2001. At the urging of her root lama Venerable Thrangu Rinpoche, she continued pursuing Tibetan medical studies in India, eventually earning her Menpa degree (Doctor of Tibetan Medicine) conferred by Qinghai Tibetan Medical College, Tibet (China) and The Shang Shung Institute of Tibetan Medicine in 2009. Her Masters of Acupuncture in the Five Element lineage is from the Institute of Taoist Education & Acupuncture. Nashalla teaches worldwide and is Associate Adjunct faculty at Naropa University. Founding The Sowa Birthing Method™ for women in the late stages of pregnancy or postpartum, she aims to prevent delivery complications and postpartum depression. Nashalla is the clinical director at the Nyinda Clinic of Tibetan Medicine & Holistic Healing in Boulder, Colorado USA