Volunteer
Contribute your skills, time and love
Volunteering is a wonderful way to generate merit.
Not only will your actions bring benefit to others, but the experience can be extremely meaningful and transformative for you as well.
Volunteers are our compassionate warriors—the bodhisattvas—who diligently build our vibrant and inclusive community. Volunteering is a swift path to accelerate your spiritual growth as a practitioner and change agent bringing us closer to the Golden Age of global peace and harmony. Together we form friendships, share a purpose and benefit the community. We are deeply grateful for every effort that each individual makes. We rely 100% on the kindness of full and part-time volunteers who offer service on behalf of the community.
Work in the community garden
Gardening connects us with the earth element. It's a particularly beneficial activity for those feeling stress or anxiety in life. Ground yourself, relax and connect with nature while offering service to the temple. All of your efforts to beautify the temple gardens and Malaya Grove farm are an offering of smell, food and flowers to the Buddha.
This work involves:
planting new vegetation
weeding
cleaning out gutters
landscape design
---
While we are building the Land of Shambhala retreat center and Malaya Grove farm, there are many activites that require physical labor. These activites require no previous knowlege to assist with but do require some level of physical fitness.
This work involves:
building and repairing fences
wood woorking
metal working
laying irrigation
digital and marketing skills
While the Rimé Institute organises a wide range of educational and community activities, one of the largest obstacles we encounter is that people are not aware of what we are doing. We need the help of volunteers to distribute promotional materials in various zones across the city to help get the word out and raise awareness.
This work involves:
identifying places where we can promote our activities
distributing flyers and brochures to those places
monitoring the promotions to ensure they are up-to-date and available
---
There are a variety of projects around Rime Institute that require skills ranging from accounting to plumbing. Here are some skills that can be offered to benefit all sentient beings. If you have a skill you don't see here write in the volunteer form below.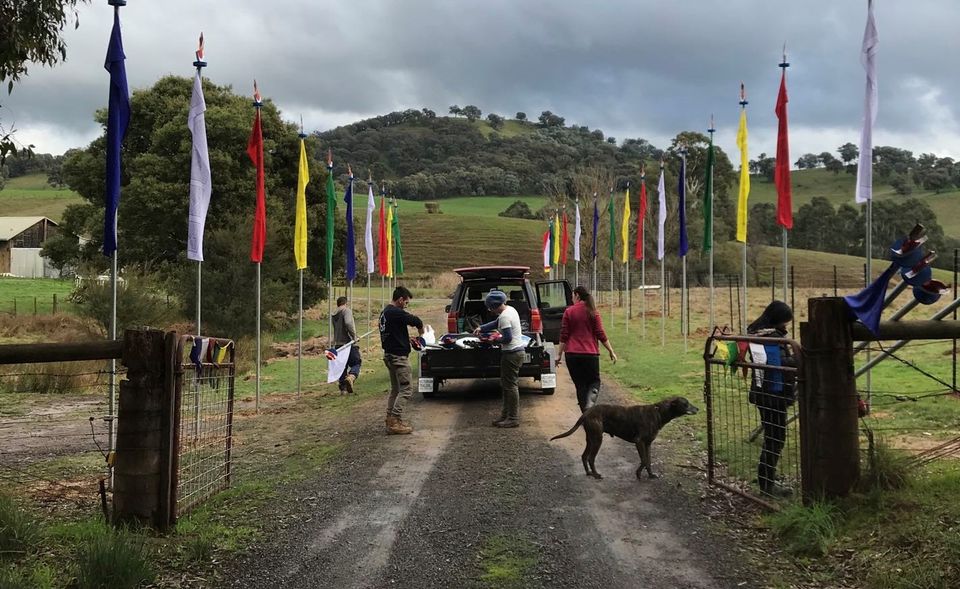 Spend 1 week to 2 months camping and offering your skills, love and time to help build Land of Shambhala Retreat Center. Enjoy and experience the beautifully calm and serene surroundings of this picturesque natural environment.
• Build the Medicine Buddha Mandala Healing Herb Garden
• Plant the Food Forest
• Camping facilities, food and Wifi are provided.
---
---
Attending volunteer days has been a great way to get to know people in our spiritual community.

Student
---
---
What skills do you want to offer the community?
Contribute your skills, time and love to any of the projects or let us know what other ways in which you would to offer your skills Khentrul Rinpoche and the community.
---
---