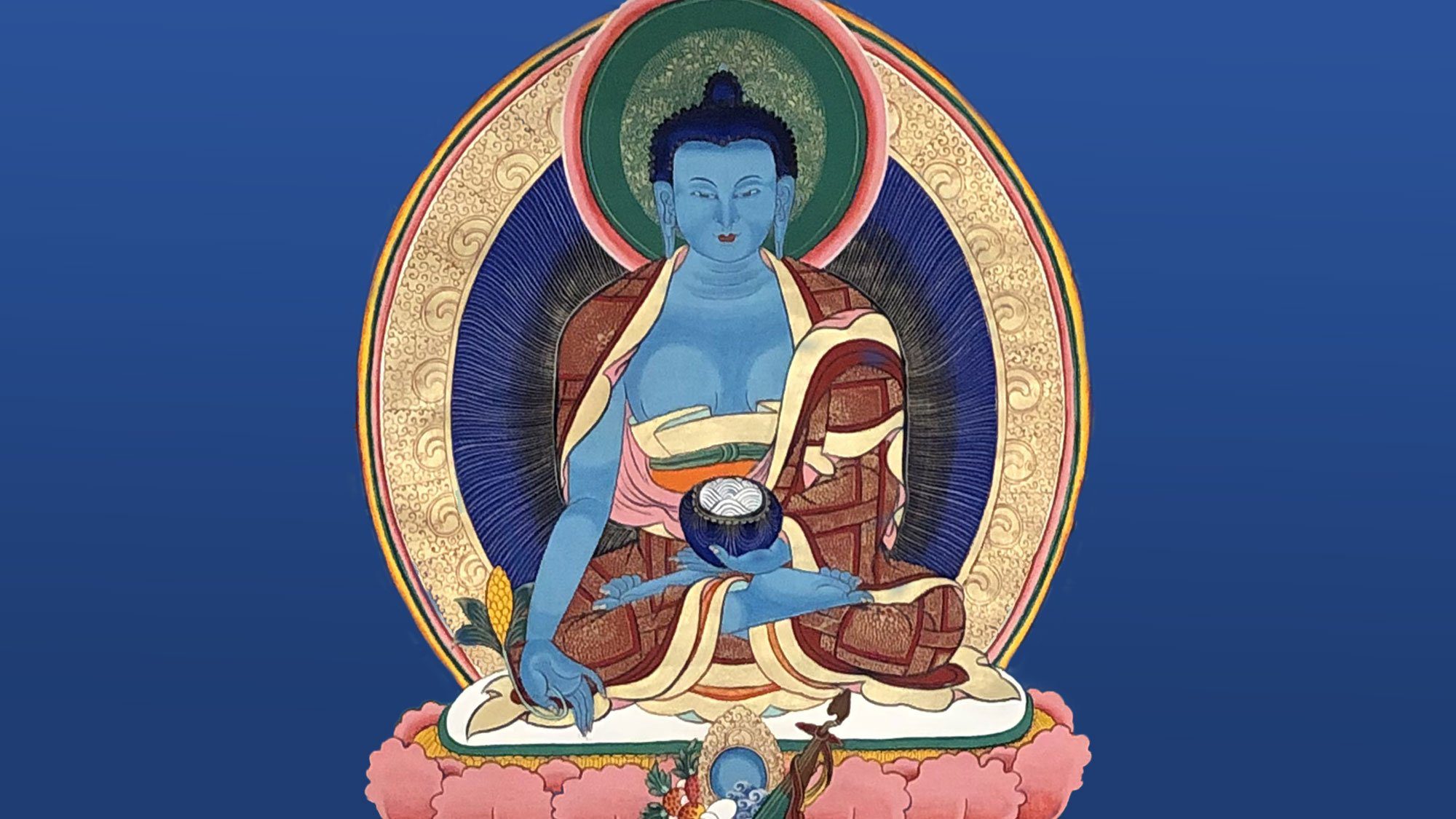 Online & In-Person: 7 Great Medicine Buddha Empowerment (Jenang)
If Lockdown lifts you can come in person. To come in person just show up and or register and pay online.
The Request For This Teaching
A student of Rinpoche's is sick. Her astrology chart indicates she needs to receive the Medicine Buddha Empowerment and she has not received it previously. We can not find one near her so kindly Rinpoche is going to bestow the Medicine Buddha Empowerment Online.
About the Empowerment
Please note that empowerments are not recorded. You must receive it in real-time.
The medicine Buddha is the doctor that cures all suffering. Khentrul Rinpoche has prepared a sadhana for us and included this empowerment so that we may be able to improve the conditions for ourself and all sentient beings. Experience the power of bringing the Medicine Buddha in your life to help yourself, loved ones or people in the world who are ill and suffering from sickness and other obstacles.
Practice Book
The Medicine Buddha is a profound method for clearing away hindrances and establishing conducive conditions for the practice of Dharma. Khentrul Rinpoche has arranged a short practice based on the visionary experience of Dölpopa. The conciseness of the practice allows you to easily integrate it into your own daily life.
EMPOWERMENT GUIDE BOOK
We will provide online registrants with an eBook to follow along with step-by-step which is available in English, Chinese, Italian, Spanish, Portuguese, Hungarian, Romanian, and Mongolian.
HOW THE ONLINE EMPOWERMENT WILL WORK
1) Register for each attendee that will be receiving the empowerment. Choose your preferred language. You will receive a confirmation email.

2) Before the empowerment, you will receive information on some simple supplies you should get to help make the experience as authentic as possible. If you are not able to get them all don't worry. They are symbolic and you can still receive the empowerment. More important you must understand what is happening. Just attending an empowerment does not mean you receive it. You must know what is going on. To ensure everyone will receive the empowerment, Rinpoche will kindly make his instruction booklet available to you as an eBook so you can follow along so you know exactly what is happening. You are not allowed to share this program book with anyone else or give them access to the empowerment. This is private for your personal use. Rinpoche typically gives the eBook out the night before but if this is a technical problem for you (you can't read an eBook and be on zoom at the same time) please indicate on the registration form so we can work to accommodate you.
3) You will receive access to the zoom for session.

OFFERING DANA TO RINPOCHE
It's customary at the end of empowerment for students to make an offering of Dana to the guru. As this is an online event, you can make the offering of Dana to Rinpoche here.
Teacher
Khentrul Rinpoché

Jonang Kalachakra & Rimé Master

Click on the arrow above to offer Dana to Khentrul Rinpoche

Khentrul Rinpoché Jamphel Lodrö is the founder and director of Dzokden. Rinpoche is the author of Unveiling Your Sacred Truth 1, 2, and 3, The Great Middle Way: Clarifying the Jonang View of Other-Emptiness, A Happier Life, and The Hidden Treasure of the Profound Path.

Rinpoche spent the first 20 years of his life herding yak and chanting mantras on the plateaus of Tibet. Inspired by the bodhisattvas, he left his family to study in a variety of monasteries under the guidance of over twenty-five masters in all the Tibetan Buddhist traditions. Due to his non-sectarian approach, he earned himself the title of Rimé (unbiased) Master and was identified as the reincarnation of the famous Kalachakra Master Ngawang Chözin Gyatso. While at the core of his teachings is the recognition that there is great value in the diversity of all spiritual traditions found in this world; he focuses on the Jonang-Shambhala tradition. Kalachakra (wheel of time) teachings contain profound methods to harmonize our external environment with the inner world of body and mind, ultimately bringing about the golden age of Peace and Harmony (Dzokden).