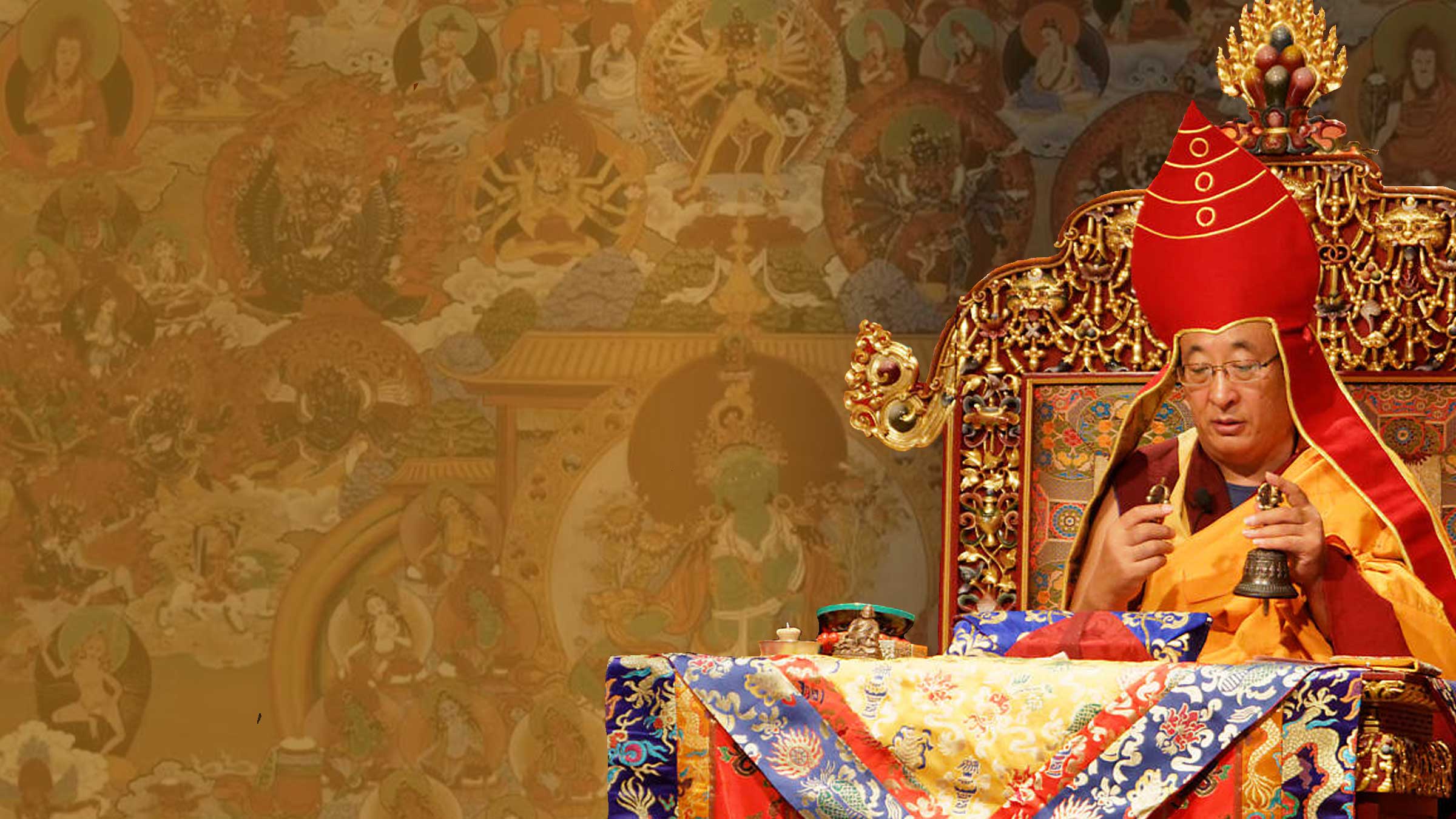 Online: 21 Tara Empowerment, Medicine Buddha Empowerment and Drolmi Kazug Puja and Oral Transmission
Registration for this event is handled by Dzokden's International website.
All proceeds from this puja will go towards our Land of Shambhala project.
About this 21 Taras Drolmi Kazug Auspicious Fortune Puja System 
Khentrul Rinpoche spent 5 months in semi-retreat preparing this puja for the whole world. Because of our economic and health situation in the world, Rinpoche would like to do the most extensive version of this Puja that has never been done in this way before. This offering practice has both worldly and Dharmic benefits to create success in all areas of life.
Often times people want to solve their large worldly problems or obstacles in a very simple way. They try a practice or two to remedy the problem but their wishes are not fulfilled. This is because the remedy is too small and simple to actually create the correct conditions. For anything to happen there are millions of karmic conditions that have to ripen. Also for anything to ripen, the amount of our own generosity and conditions we put into the remedy affect the result.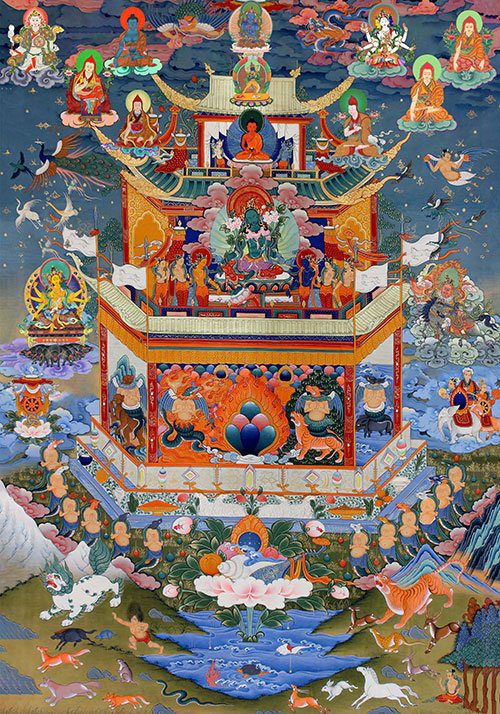 This Jonang Drolmi Kazug puja was revealed from a mind terma of Lama Yonten Sangpo and Lama Lodro Drakpa. It is the most detailed and extensive offering puja to create causes and conditions to ripen good luck and fortune. It works with every aspect of our natal astrological chart. In it we make offerings to an incredible number of classes of beings that we normally ignore in our day to day life to affect these karma areas determined at the moment of your birth.
It purifies the participants unfixed karmas which create obstacles such as diseases, spirit or demon harm, and bad fortune so that we may experience fame, good fortune, prosperity, vitality, long-life and good health to practice the Dharma to benefit all sentient beings. Rinpoche has determined that now is the right time to do this puja for us for the first time. Together we need to create the best possible conditions to manifest the Golden Age of Peace and Harmony.
Receive Extensive Blessings
21 Tara Empowerment
7 Medicine Buddha Empowerment
Drolmi Kazug Auspicious Fortune Tower Puja
Treasure Vase Blessing
Complete Oral Transmission of the Sadhana
Learn how to do this puja yourself
Rare Opportunity to Bring Wealth and Success in Your Life:
Rinpoche is spent months preparing a special version of the Sadhana, treasure vases, custom commissioned Thangkas, longevity arrows and a 3d Fortune Palace so that we each can have the option and access to the right holy objects to be able to continue to do this practice after this empowerment and puja is finished. He would like students around the world to do this regularly to create the right worldly and ultimate conditions for Dzokden to manifest. You can reserve a package of the Holy items with your registration.
Holy Objects Being Blessed During this Puja
Treasure Vases for Wealth and Prosperity
Fortune Palace of the 21 Taras
Tara Mutak
Auspicious Fortune Pillars
Drolmi Kazug Thangka
Datar (Longevity and Prosperity Arrow)
Drolmi Kazug Sadhana
All the offerings towards this puja will create a strong karmic link to the result. This is why not only will the offerings for this puja go to the put it on, any proceeds from this puja will be put towards Rinpoche's Land of Shambhala project to ensure that the merit and benefits are maximized for the attendees and our whole world. Learn about Land of Shambhala Retreat Center Project
Additional Merit Opportunity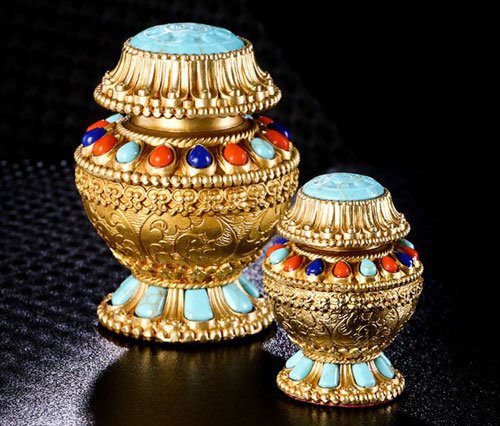 Contribute to the Fillings of the Treasure Vases
As part of the Fortune Puja offerings, we are making Treasure vases. If you would like to help generate the casues for abundance in your life, you can sponsor the jewels, semi-precious stones, crystals, precious metals, precious substances from around the world that go inside the treasure vases.
Get More Information
Contribute to the Gold Fortune Palace of the 21 Taras
Khentrul Rinpoche worked with artisans to create a 3D version this Holy Object to dot the most extensive form of the offering puja ever done. The Fortune Palace contains 21 Taras all sitting on the second floor according to the text and thangka, with Buddha Amitabha on the top level. A wind horse sits atop. Rinpoche would like to make one in Gold for Australia.
Get More Information
Hourly Schedule
Saturday, January 16th (AEST)
1:00 PM

-

3:00 PM

Drolmi Kazug Puja, Oral Transmission & Treasure Vase Blessing

You are encouraged to be present for any part of puja for the blessings. It is incredibly rare even in Tibet.To receive the Oral Transmission, you must be present for every session of the Puja.
4:00 PM

-

6:00 PM

Drolmi Kazug Puja, Oral Transmission & Treasure Vase Blessing
6:30 PM8:30 AEST

-

8:30 PM

Drolmi Kazug Puja, Oral Transmission & Treasure Vase Blessing
9:30 PM

-

11:30 PM

Drolmi Kazug Puja, Oral Transmission & Treasure Vase Blessing
Sunday, January 16th (AEST)
8:00 PM

-

10:00 PM

Pre-Empowerment Rituals for Purity and Power (Optional)
11:00 PM

-

1:00 AM

21 Taras Empowerment (Required)
Monday, January 18th (AEST)
1:30 AM

-

2:30 AM

7 Medicine Buddha Empowerment (Required)

2:30 AM

-

3:30 AM

Teaching: How to Practice Drolmi Kazug Puja for Wealth, Success and Good Fortune (Required)

If you are able to receive the oral transmission, the empowerment and reserve a package of the Holy Objects, you will have all the precious objects you need to do this practice to manifest wealth, success and abundance in your life. While many of the practices we do focus on enlightenment, this practice also focuses on our worldly conditions. It's important to have health, longevity, strength, power and wealth to benefit oneself and all sentient beings.
Teacher
Khentrul Rinpoché

Jonang Kalachakra & Rimé Master

Click on the arrow above to offer Dana to Khentrul Rinpoche

Khentrul Rinpoché Jamphel Lodrö is the founder and director of Dzokden. Rinpoche is the author of Unveiling Your Sacred Truth 1, 2, and 3, The Great Middle Way: Clarifying the Jonang View of Other-Emptiness, A Happier Life, and The Hidden Treasure of the Profound Path.

Rinpoche spent the first 20 years of his life herding yak and chanting mantras on the plateaus of Tibet. Inspired by the bodhisattvas, he left his family to study in a variety of monasteries under the guidance of over twenty-five masters in all the Tibetan Buddhist traditions. Due to his non-sectarian approach, he earned himself the title of Rimé (unbiased) Master and was identified as the reincarnation of the famous Kalachakra Master Ngawang Chözin Gyatso. While at the core of his teachings is the recognition that there is great value in the diversity of all spiritual traditions found in this world; he focuses on the Jonang-Shambhala tradition. Kalachakra (wheel of time) teachings contain profound methods to harmonize our external environment with the inner world of body and mind, ultimately bringing about the golden age of Peace and Harmony (Dzokden).