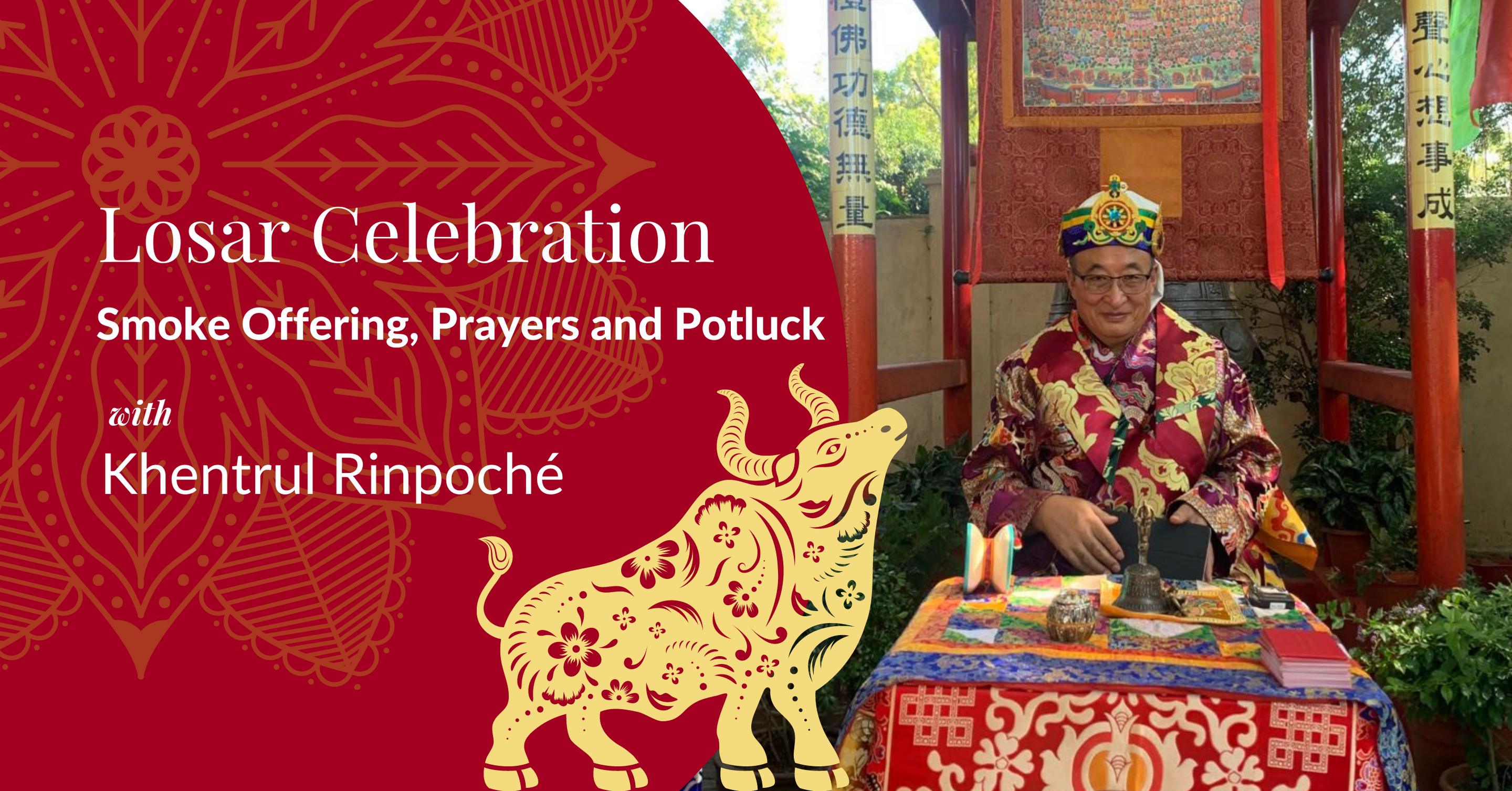 Losar Celebration: Smoke Offering (sang) and Potluck
This event is live and in-person.

Tashi Delek!

Khentrul Rinpoche has returned to Australia in time for Losar, the lunar New Year. You are invited to celebrate with us on this auspicious day at the Tibetan Rimé Buddhist Institute.2020 was a difficult year but we have a new opportunity in 2021. As a global community we just completed the Drolmi Kazug puja to create conditions for a better year. Now it is our opportunity to make the other conditions for improvement.

Please join us to recite Prayers for Goodluck and Fortune for 2021. We will make a smoke offering and enjoy each other company.

Please bring your favorite dish to share with the group and have some tea. Par take in a moment of love, laughter and community as we welcome in a new year of change and prosperity for the benefit of all sentient beings.If you would like to offer anything to Rinpoche he prefers healthy food that is low in carbs.

If you are able to please RSVP below or email to [email protected] to help us plan better. If you decide to come over last moment, just stop on by if you wish. We will be happy to see you.
Teacher
Khentrul Rinpoché

Jonang Kalachakra & Rimé Master

Click on the arrow above to offer Dana to Khentrul Rinpoche

Khentrul Rinpoché Jamphel Lodrö is the founder and director of Dzokden. Rinpoche is the author of Unveiling Your Sacred Truth 1, 2, and 3, The Great Middle Way: Clarifying the Jonang View of Other-Emptiness, A Happier Life, and The Hidden Treasure of the Profound Path.

Rinpoche spent the first 20 years of his life herding yak and chanting mantras on the plateaus of Tibet. Inspired by the bodhisattvas, he left his family to study in a variety of monasteries under the guidance of over twenty-five masters in all the Tibetan Buddhist traditions. Due to his non-sectarian approach, he earned himself the title of Rimé (unbiased) Master and was identified as the reincarnation of the famous Kalachakra Master Ngawang Chözin Gyatso. While at the core of his teachings is the recognition that there is great value in the diversity of all spiritual traditions found in this world; he focuses on the Jonang-Shambhala tradition. Kalachakra (wheel of time) teachings contain profound methods to harmonize our external environment with the inner world of body and mind, ultimately bringing about the golden age of Peace and Harmony (Dzokden).