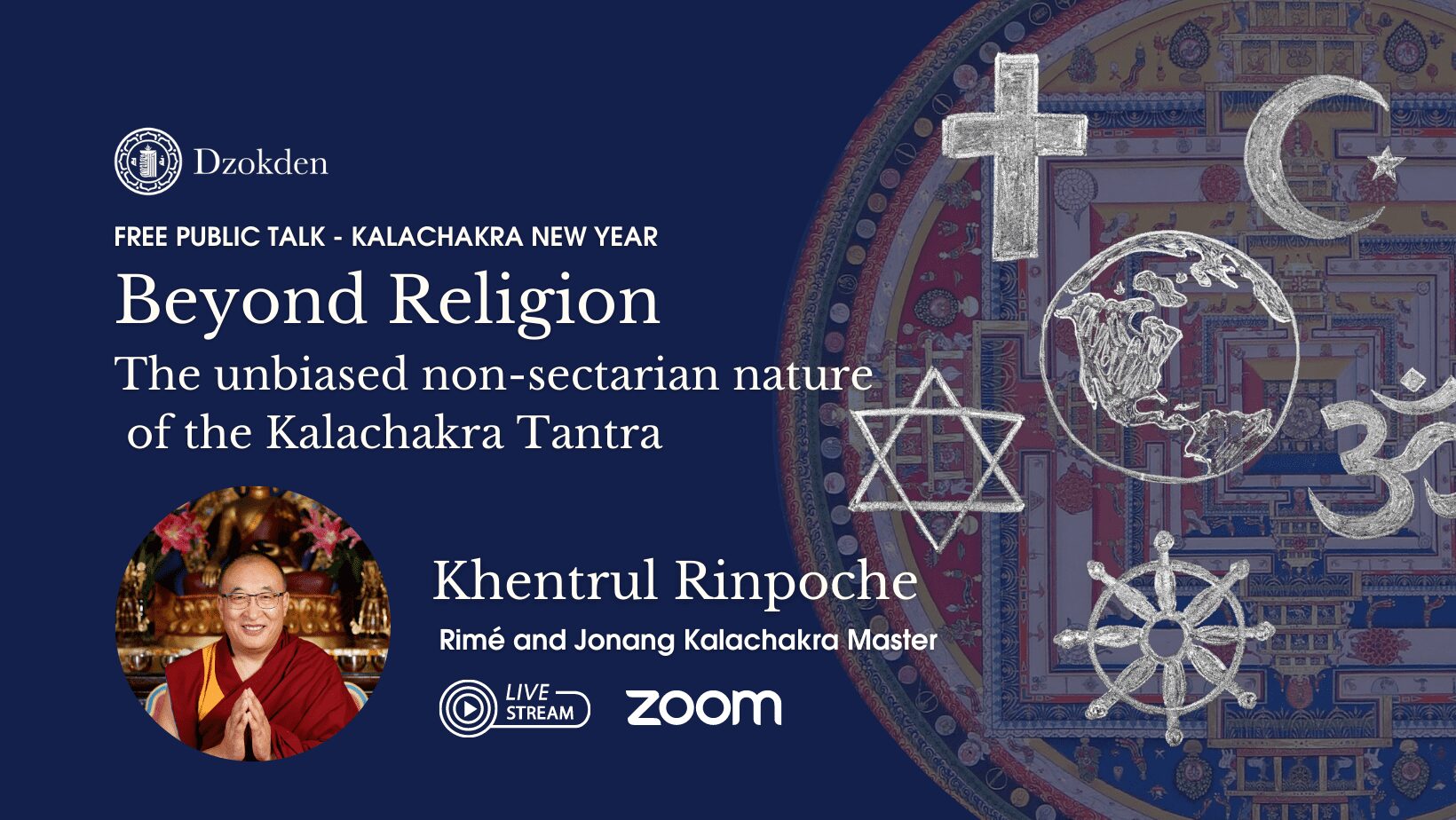 Kalachakra New Year: The Unbiased Non-sectarian nature of the Kalachakra Tantra with Rinpoche
SCHEDULE BY TIMEZONE
Melbourne, Australia:
MAY 5 – 7:00 PM
Hong Kong:
MAY 5 – 4:00 PM
Vienna, Austria:
MAY 5 – 9:00 AM
New York, New York USA:
MAY 5 – 4:00 AM
San Francisco, CA UA:
MAY 5 – 1:00 AM
ABOUT
In celebration of the anniversary of when the Buddha Shakyamuni taught the Kalachakra in the form of the Deity at Amaravati Stupa in India, we will have teachings and recite Dolpopa's prayers on Kalachakra.
In our modern times, many people prefer to be spiritual but not religious. Part of this is the desire to connect with the essence of our true nature that is beyond the limitations of any religion. This is exactly what the Kalachakra tantra teaches. Rinpoche will give teachings about why the Kalachakra tantra is a Rimé practice that is inclusive of all the world's spiritual traditions. Even in the realm of Shambhala when the great Bodhisattvas realized the teachings of the Kalachakra tantra, they did so from backgrounds based on various wisdom traditions. Understanding the true deeper nature of the Kalachakra can help move us out of the limited thinking of lineage or religion and closer to our own sacred truth.
ZOOM INFO
Please click the link below to join the webinar:
https://us02web.zoom.us/j/82918456127?pwd=ZzVEN3lkK2c4MXF5WmNNUGFzQVV6UT09
Passcode: 108108
Webinar ID: 829 1845 6127
SADHANA
Dolpopa's Great Praises of Kalachakra
Teacher
Khentrul Rinpoché

Jonang Kalachakra & Rimé Master

Click on the arrow above to offer Dana to Khentrul Rinpoche

Khentrul Rinpoché Jamphel Lodrö is the founder and director of Dzokden. Rinpoche is the author of Unveiling Your Sacred Truth 1, 2, and 3, The Great Middle Way: Clarifying the Jonang View of Other-Emptiness, A Happier Life, and The Hidden Treasure of the Profound Path.

Rinpoche spent the first 20 years of his life herding yak and chanting mantras on the plateaus of Tibet. Inspired by the bodhisattvas, he left his family to study in a variety of monasteries under the guidance of over twenty-five masters in all the Tibetan Buddhist traditions. Due to his non-sectarian approach, he earned himself the title of Rimé (unbiased) Master and was identified as the reincarnation of the famous Kalachakra Master Ngawang Chözin Gyatso. While at the core of his teachings is the recognition that there is great value in the diversity of all spiritual traditions found in this world; he focuses on the Jonang-Shambhala tradition. Kalachakra (wheel of time) teachings contain profound methods to harmonize our external environment with the inner world of body and mind, ultimately bringing about the golden age of Peace and Harmony (Dzokden).