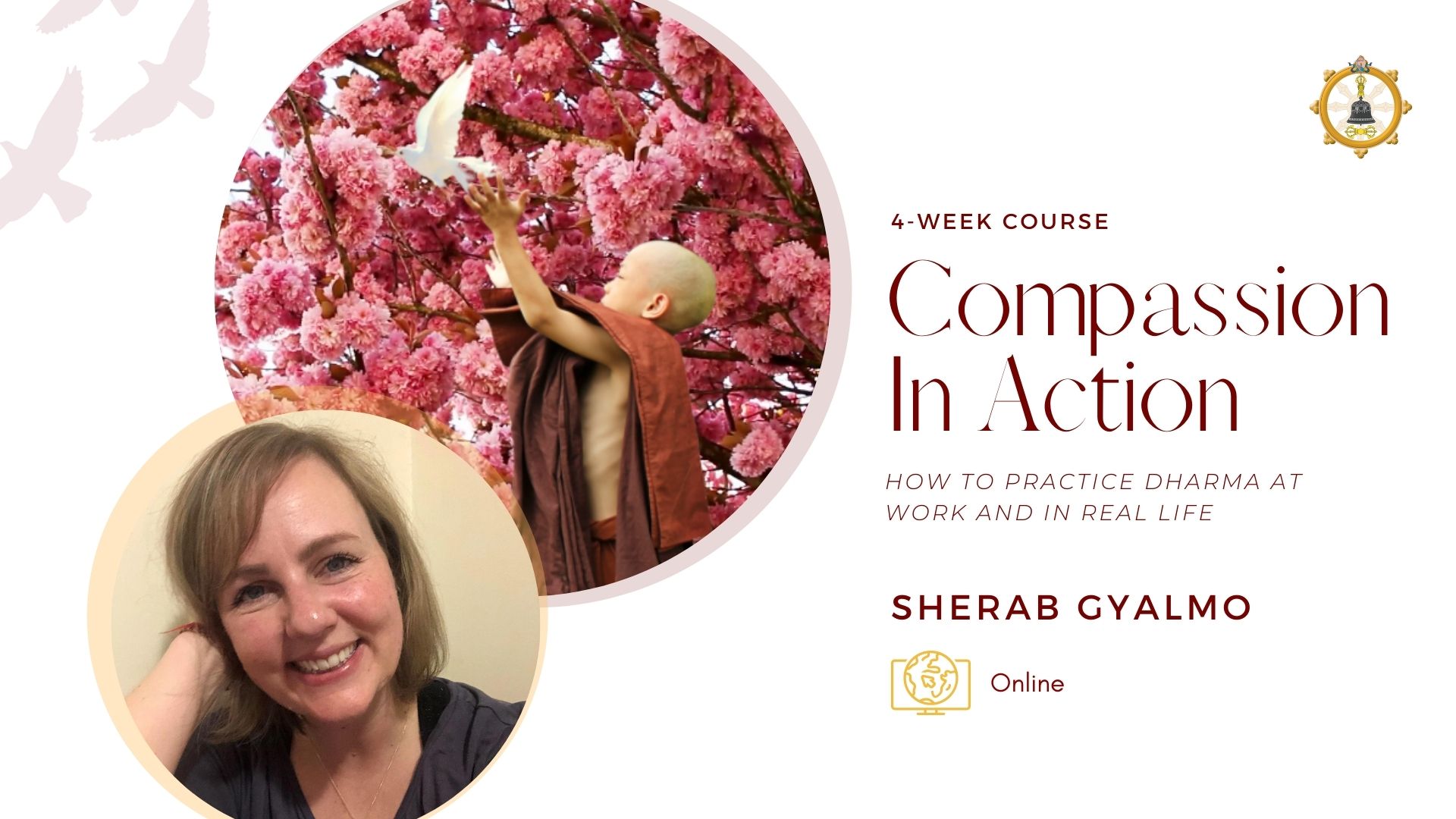 Compassion in Action Course – 4 Week Course
Online attendance through Dzokden Learning

Compassion in Action Series – A conversation about how to really practice in daily life. 
The ancient wisdom of Buddhism is extraordinarily vast and profound, but how do we in 2022 practice in daily life. How do we apply this profound path in our daily lives. How does it help with today's society, today's problems. Over four weeks we will explore some of the fundamental principles of Buddhism as it applies to our time.
7:30 PM Melbourne Time, Saturday, March 12
Class One – The Daily Grind – Stuck in Two Worlds
In class one, we discuss the struggles of daily life as it is in 2022. What are the things that affect us today that were not around in the time of Buddha. It sounds easy to be a Buddhist when you are not faced with the reality of daily life. Meditating on a cushion is nice, but when faced with our daily life challenges – work and home, how do we practice? We will touch on the 6 perfections of Buddhism and how we can apply this practically.
7:30 PM Melbourne Time, Saturday, March 19
Class Two – Opportunities for Transformation
Everyday interactions are opportunities for transformation. We CAN practice with our everyday actions of body, speech and mind. We will explore how we can harness our everyday opportunities that may seem mundane for the purpose of the greater good. By transforming your intention or motivation behind your daily actions, you can transform your world.
7:30 PM Melbourne Time, Saturday, March 26
Class Three – You have something to offer the world
We all have something we are good at. Whether it be a skill, a value, a quality. So let's talk about how you can use this skill that is unique to you to bring about change and happiness to others. What you have to offer is enough, you just need to refine the way you think about it and put it into practice. When you connect this skill with the fundamental principles of Buddhism, you are directly connecting with your true nature.
7:30 PM Melbourne Time, Saturday, April 2
Class Four – You Gotta Have Faith
Faith to many seems like an old outdated concept, bereft of meaning and purpose for a life in 2022. But everything we do we do with some kind of faith. Faith in ourselves to accomplish a task, faith that you will wake up in the morning, that the car will start, that you will have enough to eat. We explore the concept of faith through the history of Buddhism and how the base of faith can create a richer more meaningful life for yourself and those around you.

Online Attendants
Everyone will get access to the zoom meeting links in Dzokden's online learning center.
Teacher
Sherab Gyalmo

Tanya found the precious dharma in her early 20's and has had the great fortune of meeting her root lama Khentrul Rinpoche in 2004 and has studied under his guidance since then. She has attended several empowerments and retreats across the globe in India, Indonesia and Tibet and has had the great fortune to study and practice the completion practices of the 6 Vajra Yogas of Kalachakra.

Tanya has met and studied under the guidance of several great masters including His Holiness the Dalai Lama, Chogyi Trichen Rinpoche, HE Kathog Rigzin Chenpo, Khenpo Sherab, Khalkha Jetsun Dhampa, Tulku Jamyang Zhinpa and Lama Nanthong. As a devoted volunteer of the Tibetan Buddhist Rimé Institute, Tanya assists with many activities that support the temple including fundraising, communications, social media and assists as a casual teacher in TBRI's regular scheduled classes.