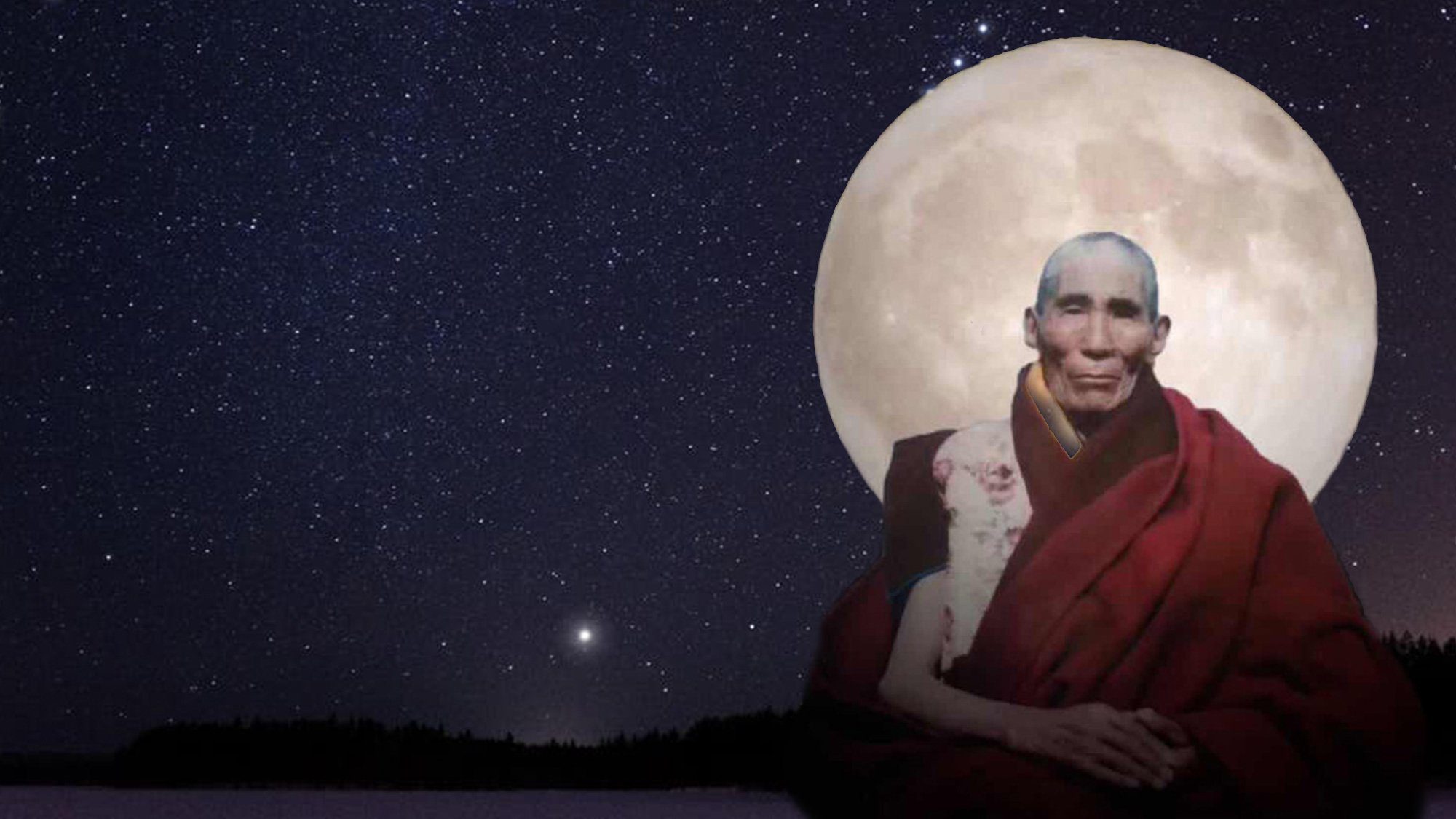 Saka Dawa Lama Chöpa for Lama Lutrin's Parinirvana

SCHEDULE BY TIMEZONE
Melbourne, Australia: JUNE 4 – 11:00 PM
Hong Kong: JUNE 4 – 9:00 PM
Vienna, Austria: JUNE 4 – 3:00 PM
New York, New York USA: JUNE 4 – 9:00 AM
San Francisco, CA USA: JUNE 4 – 6:00 AM
ABOUT
On the most auspicious day of Saka Dawa, Khentrul Rinpoche's Root Guru entered into Parinirvana. As a global community, we will do an online Guru Puja for Lama Lutrin in Zoom.
This is an incredible opportunity to honour the lineage masters. All meritorious activities done on this day are multiplied by 100,000 million times. Saka Dawa is a celebration of the Buddha's birth, enlightenment and Maha parinirvana. The Guru Puja is a most profound practice and we can think of all the masters up through Lama Lobsang Trinley and Khentrul Jamphel Lodrö Rinpoche that have made these teachings available to us know. The Guru Puja practice encompasses all of the Dharma path to enlightenment. It contains the complete, ground, path and result. It is the highest of the Guru Yoga practices and so we are very fortunate to have a chance to practice it.
May this offering create the conditions for the Jonang Dharma to Flourish throughout all space and time.
ZOOM INFO
https://us02web.zoom.us/j/88566828104?pwd=eWw3R2dxMzl6NzRjdjUyRlRDQm9BQT09
Passcode: 048685
Webinar ID: 885 6682 8104
SADHANA
Guru Puja: https://read.dzokden.org/5f253b5e419c3639c4f0a404.html
For those unfamiliar with this practice we have an entire course on it which you can find here. We will provide the link to the text so everyone can participate.
Teacher
Khentrul Rinpoché

Jonang Kalachakra & Rimé Master

Click on the arrow above to offer Dana to Khentrul Rinpoche

Khentrul Rinpoché Jamphel Lodrö is the founder and director of Dzokden. Rinpoche is the author of Unveiling Your Sacred Truth 1, 2, and 3, The Great Middle Way: Clarifying the Jonang View of Other-Emptiness, A Happier Life, and The Hidden Treasure of the Profound Path.

Rinpoche spent the first 20 years of his life herding yak and chanting mantras on the plateaus of Tibet. Inspired by the bodhisattvas, he left his family to study in a variety of monasteries under the guidance of over twenty-five masters in all the Tibetan Buddhist traditions. Due to his non-sectarian approach, he earned himself the title of Rimé (unbiased) Master and was identified as the reincarnation of the famous Kalachakra Master Ngawang Chözin Gyatso. While at the core of his teachings is the recognition that there is great value in the diversity of all spiritual traditions found in this world; he focuses on the Jonang-Shambhala tradition. Kalachakra (wheel of time) teachings contain profound methods to harmonize our external environment with the inner world of body and mind, ultimately bringing about the golden age of Peace and Harmony (Dzokden).