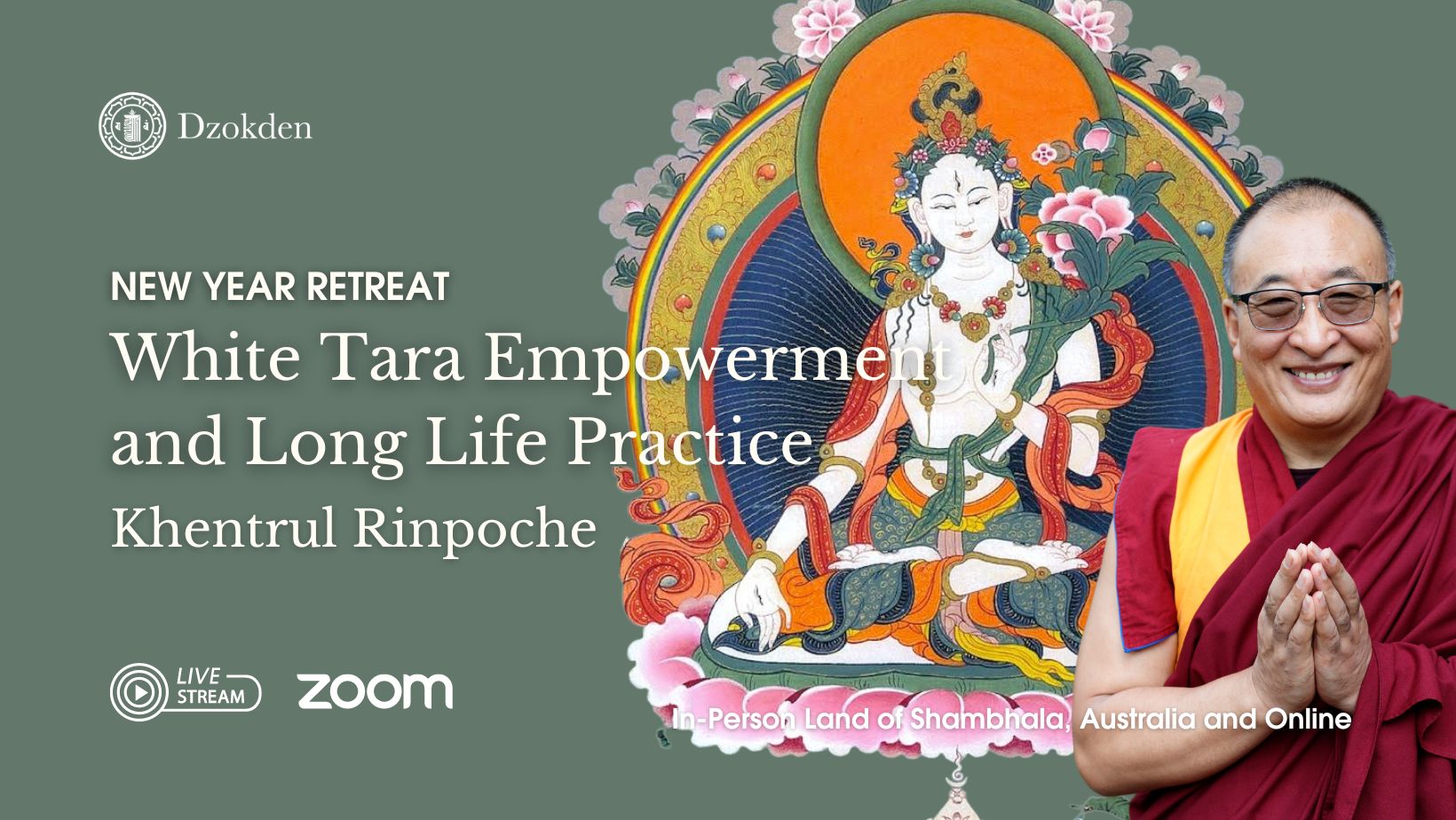 In-Person: White Tara Long Life Empowerment and Practice Retreat at Land of Shambhala
If would like to register for the online event in other langauges, please sign up on Dzokden.org so we can best track your enrolment.

About the Practice of White Tara
Chod is a powerful practice of accepting willingly what is undesirable, cutting through our concepts, reducing our self-cherishing nature leading us closer to our own true nature. The main obstacle to our own enlightenment is our clinging to our own ego, our own existence. When fear, fixation, and self-clinging are cut through, giving rise to the awareness of the pure nature of emotions and the emptiness of mental obscurations.
Machig Labdrön created a unique practice of Mahamudra Chöd practice. She is the manifestation of Prajnaparamita, the Great Mother who gives birth to realisation of emptiness. Furthermore, Machig Labdron is also the manifestation of Arya Tara, who gives birth to compassion. A chöd pa (practitioner) can cut through anything and therefore his or her main intention should be to unify understanding of emptiness and loving kindness and compassion, just as Machig Labdron did.
Khentrul Rinpoche has received the Chöd transmission and practiced in multiple traditions such as the Nyingma Kagyu, Jonang and the Gelug traditions.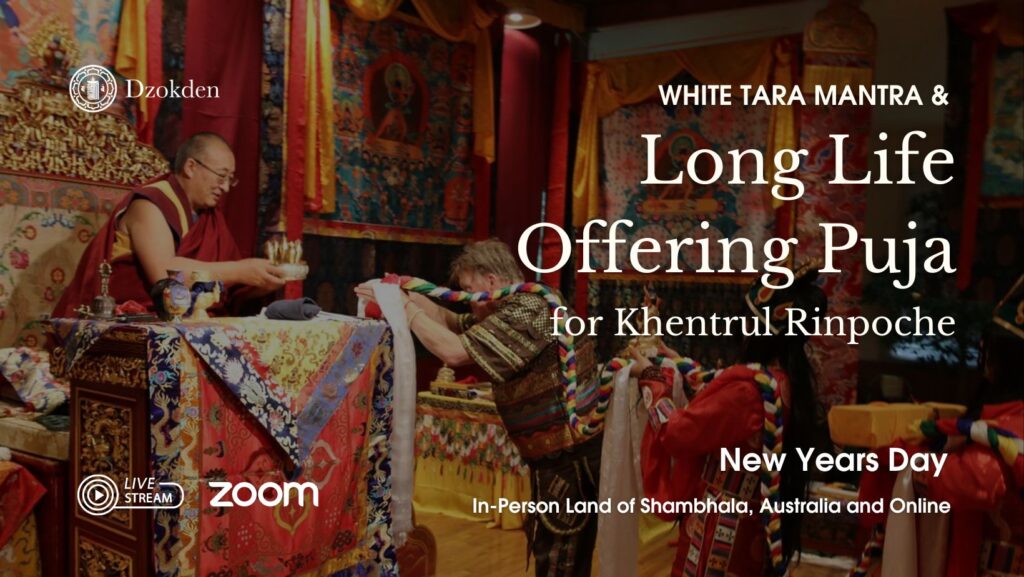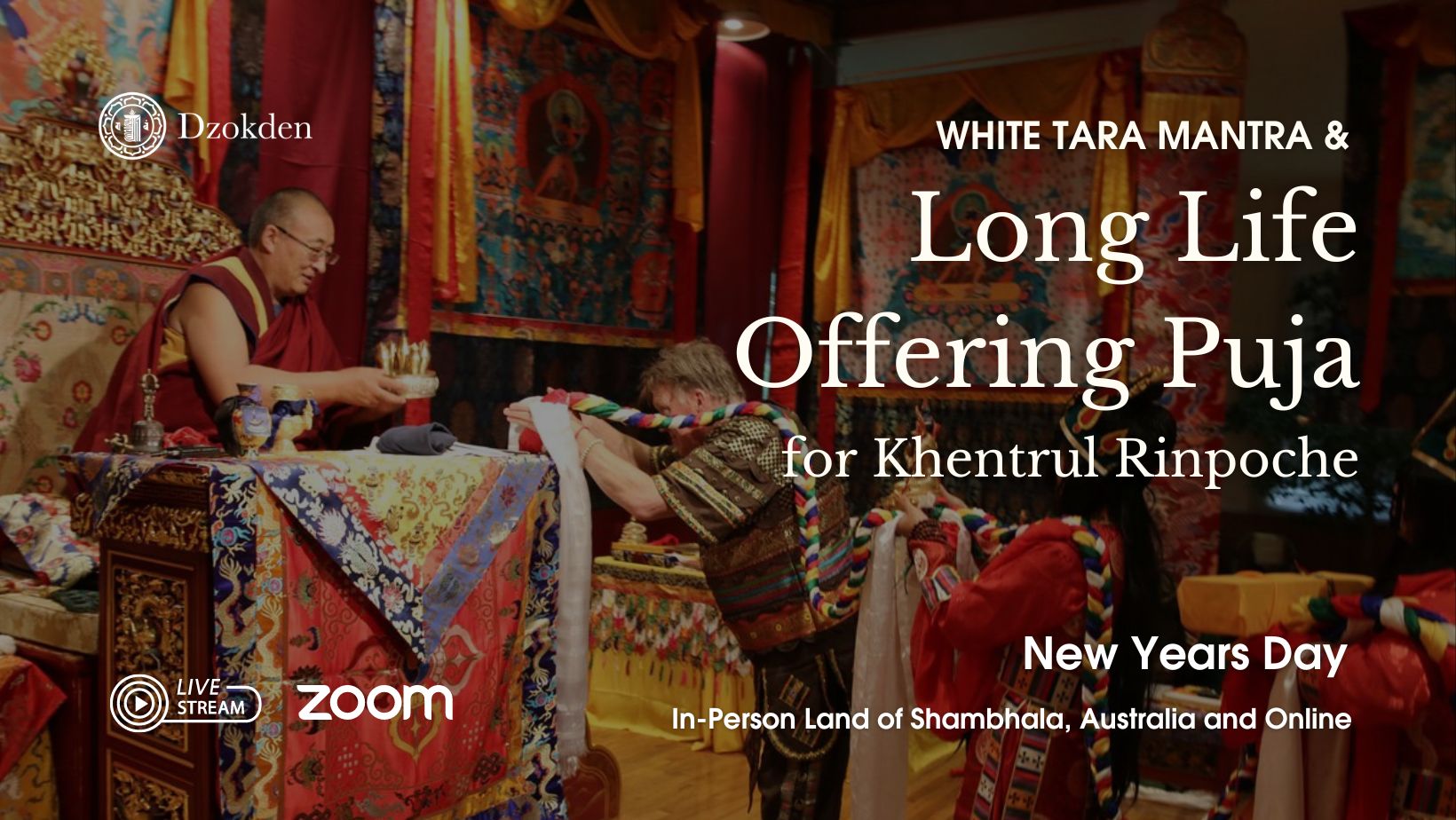 Who can attend (online and in person)?
This retreat is open to all.
Friday 30th December 2022 – Free Online Pre-Teaching If you want to learn more about the retreat and the teaching tune into this teaching from Khentrul Rinpoche.
7:00 PM – How to Live a Long and Meaningful Life
In-Person Attendees
There is an onsite supplement fee built into the price for all on-site attendees to cover the cost of food and amenities. This on-site fee is the same for those camping on site and those staying in the surrounding environment as meals and toilets will be provided to you either way.
Teacher
Khentrul Rinpoché

Jonang Kalachakra & Rimé Master

Click on the arrow above to offer Dana to Khentrul Rinpoche

Khentrul Rinpoché Jamphel Lodrö is the founder and director of Dzokden. Rinpoche is the author of Unveiling Your Sacred Truth 1, 2, and 3, The Great Middle Way: Clarifying the Jonang View of Other-Emptiness, A Happier Life, and The Hidden Treasure of the Profound Path.

Rinpoche spent the first 20 years of his life herding yak and chanting mantras on the plateaus of Tibet. Inspired by the bodhisattvas, he left his family to study in a variety of monasteries under the guidance of over twenty-five masters in all the Tibetan Buddhist traditions. Due to his non-sectarian approach, he earned himself the title of Rimé (unbiased) Master and was identified as the reincarnation of the famous Kalachakra Master Ngawang Chözin Gyatso. While at the core of his teachings is the recognition that there is great value in the diversity of all spiritual traditions found in this world; he focuses on the Jonang-Shambhala tradition. Kalachakra (wheel of time) teachings contain profound methods to harmonize our external environment with the inner world of body and mind, ultimately bringing about the golden age of Peace and Harmony (Dzokden).