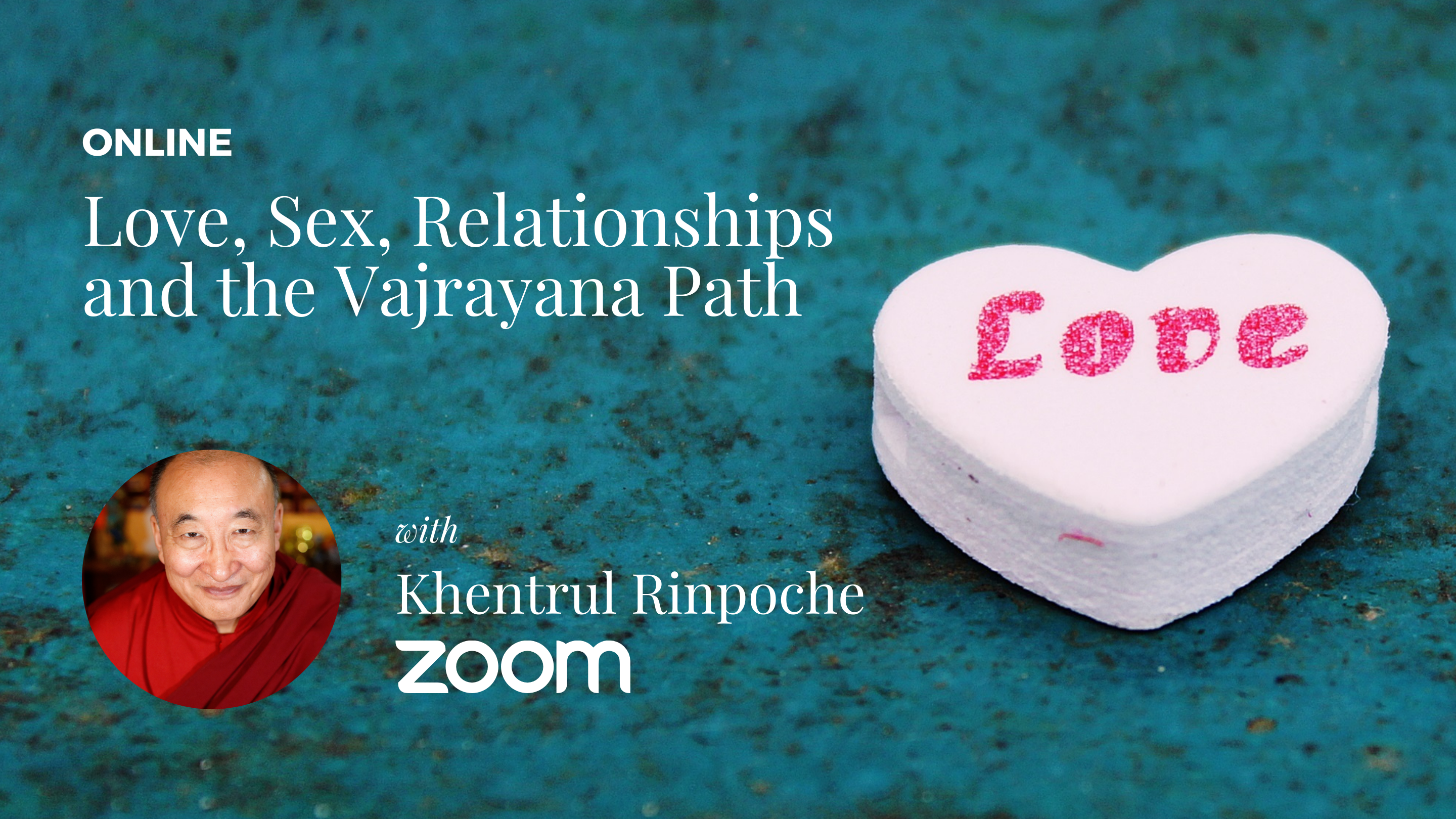 Online: Love, Sex, Relationships and the Vajrayana Path
Zoom and Facebook Live.

Translations to be determinedBy request of many different students, Rinpoche will kindly lead a discussion and debate around the Love, Sex and Relationships. This is an area of much confusion among both practitioners and potential practitioners.

Rinpoche is very kind to answer questions for us so that people can learn to work with all aspects of their life as the path. Commonly asked questions include, can I fall in love with a Dharma community member? Do I need to get divorced from my partner who doesn't practice Vajrayana? Do I need to abandon my home and all my family to do this practice? If I take an initiation does it mean I can never have sex again? If I taken an initiation does that mean I have to have sex? Because of new-age tantra there is much fear, confusion and excitement around what an initiation can mean.Please bring your questions and your best points to this interactive event so that Rinpoche can work to cover them all.
Please click the link below to join the webinar:
https://us02web.zoom.us/j/86030237280?pwd=Nk9GRjVzYlY0QkhEaVJZUDRIWTI5UT09
Webinar ID: 860 3023 7280
Passcode: 108108

Offer Dana to Rinpoche
https://dzokden.org/donations/dana-for-rinpoche/
Teacher
Khentrul Rinpoché

Jonang Kalachakra & Rimé Master

Click on the arrow above to offer Dana to Khentrul Rinpoche

Khentrul Rinpoché Jamphel Lodrö is the founder and director of Dzokden. Rinpoche is the author of Unveiling Your Sacred Truth 1, 2, and 3, The Great Middle Way: Clarifying the Jonang View of Other-Emptiness, A Happier Life, and The Hidden Treasure of the Profound Path.

Rinpoche spent the first 20 years of his life herding yak and chanting mantras on the plateaus of Tibet. Inspired by the bodhisattvas, he left his family to study in a variety of monasteries under the guidance of over twenty-five masters in all the Tibetan Buddhist traditions. Due to his non-sectarian approach, he earned himself the title of Rimé (unbiased) Master and was identified as the reincarnation of the famous Kalachakra Master Ngawang Chözin Gyatso. While at the core of his teachings is the recognition that there is great value in the diversity of all spiritual traditions found in this world; he focuses on the Jonang-Shambhala tradition. Kalachakra (wheel of time) teachings contain profound methods to harmonize our external environment with the inner world of body and mind, ultimately bringing about the golden age of Peace and Harmony (Dzokden).