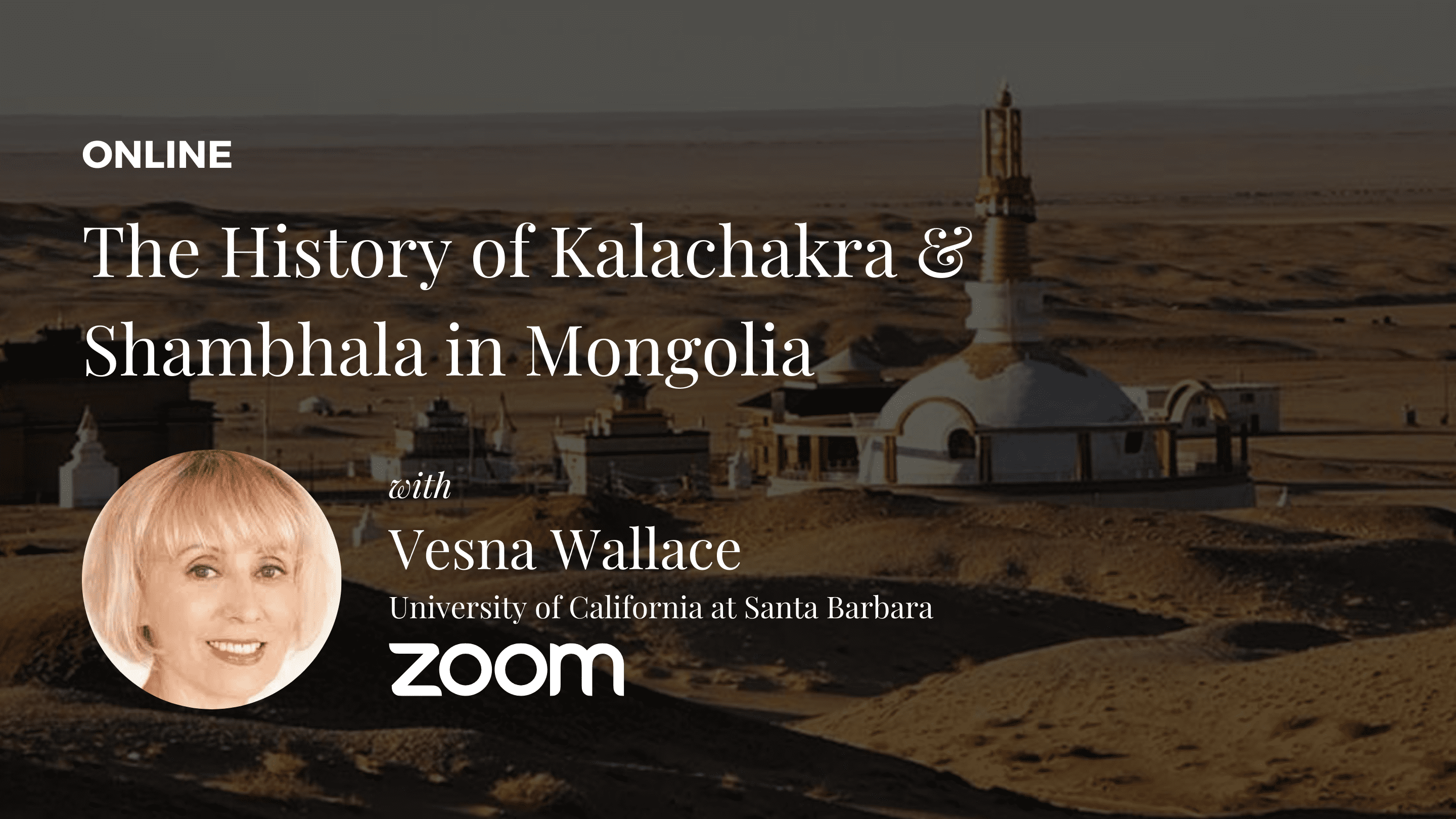 History of Kalachakra and Shambhala in Mongolia with Vesna Wallace
In anticipation of our Kalachakra Pilgrimage Mongolia Tour in August 2022 with Khentrul Rinpoche and Vesna Wallace, we invite you to join our upcoming conversation with Vesna Wallace – Professor Emeritus of Religious Studies at the University of California on the History of Kalachakra and Shambhala in Mongolia.

The Mongolian interest in Shambhala is closely connected to the spread and rise in popularity of the Kalachakra teachings throughout history in the region. The Divine Kingdom of Shambhala is as described in the Kalachakra tantra has significant links to the Gobi desert of Mongolia, where you will find Dvanaraja's Shambhala land. Mongolians consider Shambhala Land to be an energy portal symbolically linked to the sublime realm of Shambhala.In this talk, Vesna will bring to life the rich history of Kalachakra and Shambhala in Mongolia and its unique features. We look forward to you joining us for this enriching talk and Q&A session with Vesna. 
Please click the link below to join the webinar:
https://us02web.zoom.us/j/84697985454?pwd=VW0vZ3l0RGVONTBTRlRIT1FLQVgxUT09
Webinar ID: 846 9798 5454
Passcode: 108108
Donation for the Class
Teacher
Vesna Wallace

Scholar in Mongolian Buddhism and Kalachakra

Vesna A. Wallace is a senior Professor of Religious Studies at the University of California, Santa Barbara. Her fields of specialization are Indian Mahāyāna and Vajrayāna Buddhist traditions and Mongolian Buddhism. She has authored and translated four books related to Indian Buddhism, three of which pertain to the Kālacakra tantric tradition in India, published an edited on Mongolian Buddhism titled Buddhism in Mongolian History, Culture, and Society and more than seventy articles on Indian and Mongolian forms of Buddhism. Her most recent book, which is currently in the press by Oxford University Press, is an edited volume titled Sources of Mongolian Buddhism, and her forthcoming, co-authored book is The Text, Image, and Imagination in Mongolian Buddhist Rituals, which will be published by Columbia University Press.