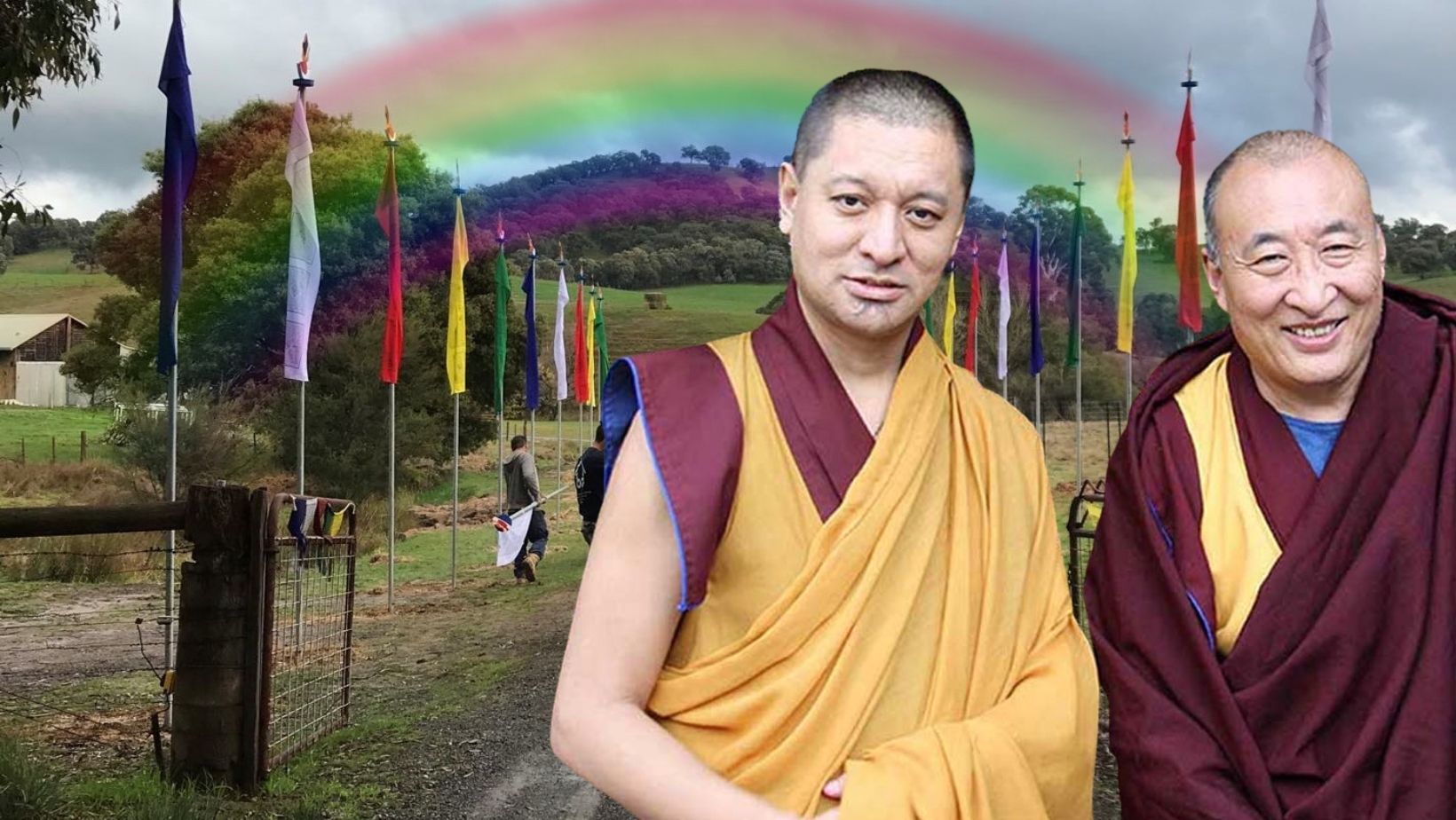 Land of Shambhala Blessing with Kathog Rigzin Chenpo and Khentrul Rinpoche Jamphel Lodrö

Please come to Land of Shambhala Thornton, Victoria in-person if you can.
Online streaming on facebook and Zoom will be available.

| | |
| --- | --- |
| Consecration Land of Shambhala | 11.00 – 12.30pm |
| Lunch | 12.30 – 1.30pm |
| Merit Making Activities | 1.30 – 5.00pm |
H.E. Kathog Rigzin Chenpo will bless the Land of Shambhala with Khentrul Rinpoche Jamphel Lodrö. They will make offering to the Buddha, Bodhisattvas, Deities, Dakas, Dakinis, Nagas and all the Local Deities and Dharma protectors to help bring harmony to the land and make the space holy. This precious process helps create the causes and conditions for us to use the space to build Holy Objects. We wish to begin building of the Wish-fulfilling Stupa on the hill. May this create the conditions for the land to flourish. Khentrul Rinpoche's vision for Land of Shambhala is to create a space for the complete Kalachakra teachings to be held, integrated and transmitted for people of all the wisdom traditions of the world to benefit. May this bring about a Golden Age of Peace and Harmony.

H.E. Kathog Rigzin Chenpo is one of Khentrul Rinpoche Jamphel Lodrö's favourite vajra masters. He has specially requested that he come here to bestow these blessings on the land. Rigzin Chenpo has a comprehensive understanding of all the traditions of Tibetan Buddhism, studied Kalachakra, Tibetan Medicine and is the holder of several lineages of Nyingma teachings
Language
Tibetan. Khentrul Rinpoche Jamphel Lodrö will translate to English if needed.
This is a puja that will be offered in Tibetan and will not be translated.
This event is a public talk that will be live streamed on Facebook on Dzokden.
Zoom Access
https://us02web.zoom.us/j/84959857447?pwd=SFQ4SDJTZWY2NXpseEo3SFRadE5LZz09
Webinar ID: 849 5985 7447
Passcode: 757835
This event is part of a series with Kathog Rigzin Chenpo.
Land of Shambhala
Wednesday – Consecration of the Land of Shambhala
Thursday – Medicine Buddha Mandala Consecration
Tibetan Rime Buddhist Institute
Saturday – Guru Rinpoche and Red Vaisravana Empowerments
Sunday – Samaya Tara Empowerment
Sunday – Teachings on Astrology and Medicine
Teachers
Kathog Rigdzin Chenpo

Rimé & Nyingma Vajra Master

The sixth reincarnation Kathog Rigdzin Chenpo Rinpoche was born in the Golok region of Qinghai Province. When he was young, he was recognized as the incarnation of Rigdzin Chenpo by such Lamas as the sublime Khamtsang Terton, Karma Chakme of Pelyul, Lama Norpel Jadral Rigtsel, Gown Tulku & many others. In a previous life he was also one of Dolpopa's 14 heart disciples. Rinpoche is now the spiritual leader of the Kathog Rigzin Chenpo Dharma Association and the abbot of the Kathog Rigzin Chenpo Dharma Meditation Center Center in Taichung City, Taiwan. He maintains several retreat centers in Tibet, Singapore, and Malaysia. He has devoted his entire life to teaching Dharma, translating significant tantras and writing dharma books about the Nyingma tradition of the Vajrayana to benefit all dharma practitioners in the world.

Khentrul Rinpoché

Jonang Kalachakra & Rimé Master

Click on the arrow above to offer Dana to Khentrul Rinpoche

Khentrul Rinpoché Jamphel Lodrö is the founder and director of Dzokden. Rinpoche is the author of Unveiling Your Sacred Truth 1, 2, and 3, The Great Middle Way: Clarifying the Jonang View of Other-Emptiness, A Happier Life, and The Hidden Treasure of the Profound Path.

Rinpoche spent the first 20 years of his life herding yak and chanting mantras on the plateaus of Tibet. Inspired by the bodhisattvas, he left his family to study in a variety of monasteries under the guidance of over twenty-five masters in all the Tibetan Buddhist traditions. Due to his non-sectarian approach, he earned himself the title of Rimé (unbiased) Master and was identified as the reincarnation of the famous Kalachakra Master Ngawang Chözin Gyatso. While at the core of his teachings is the recognition that there is great value in the diversity of all spiritual traditions found in this world; he focuses on the Jonang-Shambhala tradition. Kalachakra (wheel of time) teachings contain profound methods to harmonize our external environment with the inner world of body and mind, ultimately bringing about the golden age of Peace and Harmony (Dzokden).