Weekend Workshops with Khentrul Rinpoche
November 16, 2019 @ 2:00 pm

-

November 17, 2019 @ 6:00 pm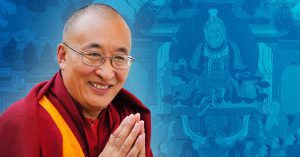 Women, Enlightenment And Tantra
Saturday 16th November
Rarely do we speak of female enlightenment or the extraordinary realizations of women on the spiritual path, as sadly our cultures have been steeped in patriarchy. We invite you to learn about female enlightenment in this workshop with Khentrul Rinpoche, a Tibetan Lama who teaches in over 20 countries, and who strongly believes in the importance of cultivating highly realized female role models in the world today. We will hear stories of great female yogis and learn how enlightenment depends equally upon both female and male energies.
This leads naturally to an exploration of Tantra – a precious body of teachings through which we can learn to harness these energies and skilfully weave our meditation experiences into the fabric of daily life. Instead of being caught up in an endless cycle of emotional conflict, we can then learn to see everything in life as a profound opportunity for spiritual growth and awakening.
Khentrul Rinpoche is a master of the Kalachakra Tantra, the highest form of yoga-tantra in Tibetan Buddhism. It is an incredible privilege to be able to learn from his experience, expertise and realization.
Program
2.00 – 3.30                Teaching
3.30 – 4.00                Afternoon Tea
4.00 – 6.00                Teaching & Discussion
Embracing The Mysteries Of Death And Dying
Sunday 17 November
In the Tibetan tradition there are many stories of great meditators passing away with 'signs of spiritual attainment'. Sometimes their body would remain without decomposing for weeks, with warmth radiating from the heart centre. There are even stories of bodies dissolving into rainbow light or precious relics miraculously appearing in their remains, as happened with Khentrul Rinpoche's Root Guru.
These stories inspire us with the possibility that we can gain understanding or even mastery over the process of death and dying. They open us to the tremendous insight we can gain from the precious teachings of the Tibetan Buddhist tradition, regardless of our own spiritual beliefs.
Khentrul Rinpoche will take us on a journey through what is known as the 'bardos', or transition periods, between one life and the next, and the tremendous opportunity they can offer if we view them as an opportunity for spiritual transformation.
There will be plenty of opportunity for questions, discussions and sharing throughout the day.
Program
2.00 – 3.30                Teaching
3.30 – 4.00                Afternoon Tea
4.00 – 6.00                Teaching & Discussion
Cost for Weekend Workshop
2 Days $120 Concession $110
I day     $60   Concession $55
Casuarina Steiner School Hall, 4 Gentle St, Coffs Harbour NSW
For details please call Adrian on 0499 437 792
Methods of Payment
You can make payment via any of the following methods:
Money Order: Please make payable to Tibetan Buddhist Rime Institute(can be posted to: 1584 Burwood Highway, Belgrave 3160 Victoria, Australia.
Cash
Direct Debit: Tibetan Buddhist rime Institute Inc. Bank: ANZ. BSB: 013-457 Account: 4944-47223 (Please include your surname as a reference)
Registration Process
Make the payment using one of the methods described above.
Fill out the registration form making sure to include the reference information for your payment.
Once we have confirmed the payment, we will contact you via email to confirm your registration
Registration