---
The largest of the three monastic residences in Dzamthang, Tsangwa Monastery is the home to the current head of the Jonang Tradition. It was here that Khentrul Rinpoche was invited to become the resident teacher.
Dzamthang Tsangwa Monastery was founded when the 4th Chöje Lama Drakpa Öser and Nyingwo Kyabdak requested Khidrup Lodrö Namgyal to come to Dzamthang from the province of Tsang. Lödro Namgyal was the 30th Jonang lineage holder, resident lama at the Jomonang Monastery in U-Tsang and the 4th resident lama at Takten Damchöling. He travelled extensively through Tibet and Mongolia, giving many teachings and transmissions for the benefit of sentient beings.
Tsangwa Monastery has been the home to many great masters including Tsangwa Ngawang Trinley Namgyal, Kongchok Jigme Namgyal, Ngawang Jamphel Thutop Namgyal and Sétrul Ngawang Kunga Phuntsok and many others.
Tsangwa's branch monasteries include Thupten Shedrup Ling, Chogar Gongma, Yurwe Atsong, Tashi Chöthang, Jayur Zisib Tashi Lhakhang, Kathok Dharthang, Tashi Lhakhang, Zitod Tsakha monastery and so forth.
Resident Teachers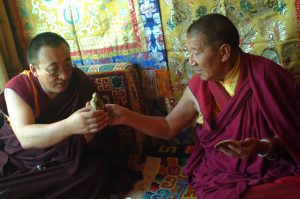 His Holiness Jigmé Dorje
When he was small boy, Jigme Dorje's future teacher Lama Ngakgom Purtsa predicted that he would become a great Kalachakra master and upholder to the Jonang lineage. After dedicating his life to the practice of Highest Yoga Tantra, he was appointed to be the 43rd Vajra Master of Dzamthang Monastery. Since then he has taught thousands of students, guiding many to become highly realised masters in their own rights. In 2014, his peers voted him to become to head of the Jonang Tradition.